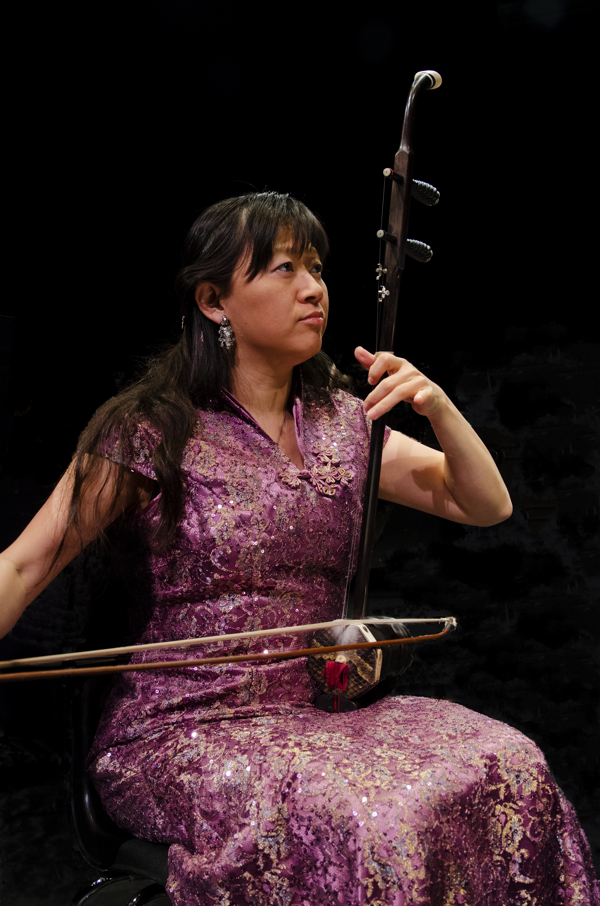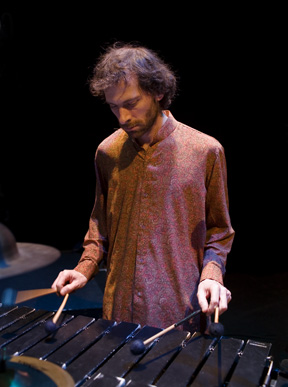 Lan Tung 董籃 – erhu & voice, Artistic Director/producer
Lan's music often experiments with contradictions by taking culturally specific materials outside their context. Her works embody the rhythmic intricacy from Indian influence, the sense of breath from Chinese tradition, and years of experiences interpreting contemporary compositions. Incorporating improvisation and graphic notations, Lan's compositions are released on numerous CDs, winning multiple nominations. Lan is the artistic director of Sound of Dragon Society, Orchid Ensemble, and Proliferasian. Originally from Taiwan, she has studied graphic score with Barry Guy, improvisation with Mary Oliver, Hindustani music with Kala Ramnath, and Uyghur music with Abdukerim Osman, in addition to her studies of Chinese music since a young age. Lan has appeared as a soloist with Orchestre Metropolitain (Montreal), Symphony Nova Scotia, Upstream Ensemble (Halifax), Atlas Ensemble (Amsterdam & Helsinki), Vancouver Inter-Cultural Orchestra and Little Giant Chinese Chamber Orchestra (Taipei).
董籃 ─ 二胡、歌唱、作曲 
二胡演奏家,並同時兼作曲、藝術行政及音樂會製作人等多重身份,是蘭韻中樂團、龍吟滄海協會、Proliferasian樂隊創辦人及藝術總監。董籃自幼在臺灣接受音樂教育,包括國立師大附中、中國文化大學音樂系,曾多次贏得臺灣音樂比賽二胡第一名,並獲頒薪傳藝術金獅獎。董籃的作品,常以東方傳統音樂做為出發點,並融入不同文化的音樂元素,最後以現代手法來體現。這是來自於她過去十多年,與吉普賽、印度、佛朗明哥(Flamenco)、印尼、猶太、中東、韓國等樂隊及樂手的合作,將二胡演奏帶到許多不同的舞台上。董籃曾與溫哥華交響樂團、阿姆斯特丹Atlas樂團、Symphony Nova Scotia、蒙特婁大都會交響樂團、溫哥華跨文化管弦樂團合作、溫哥華轉捩點樂團、小巨人絲竹樂團,演出二胡協奏曲及自己的作品,登上臺灣國家音樂廳、赫爾辛基西貝流士音樂院、阿姆斯特丹音樂廳、甘迺迪藝術中心、底特律藝術中心等國際舞台。
董籃師事吳贛伯、陳淑芬、黃正銘、李鎮東,並獲加拿大聯邦及BC省政府獎項,前往舊金山和北京隨演奏家陳潔冰、張方鳴進修。更遠赴印度、埃及、新疆,與小提琴家Kala Ramnath、Alfred Gamil、維吾爾艾捷克演奏家Abdukerim Osman教授,學習當地音樂。近年來,董籃在即興演奏和音樂創作上,找到了融合東西方音樂思維,並發揮個人獨特風格的管道,於阿姆斯特丹與小提琴家Mary Oliver合作,並多次在溫哥華國際爵士樂節中演出。
Jonathan Bernard – percussion
Jonathan combines his western percussion background with a fascination for Asian traditions to create a unique sound palette incorporating a myriad of instruments, techniques and styles. Active in genres from orchestral music to New Music, and world music, he has premiered over seventy chamber works with ensembles such as Vancouver New Music, The Fringe Group, Four Gallon Drum, Ensemble Symposium. The principal percussionist with the Vancouver Island Symphony, Jonathan has performed with numerous orchestras including Vancouver, Victoria, National Ballet and CBC Radio Orchestra. Jonathan studied at the University of Ottawa and UBC. His interest in World Music has led him to perform Chinese, Javanese, Balinese and Korean music and study traditional and contemporary Chinese percussion in Beijing, Arabic percussion in Cairo, and Carnatic rhythm in South India. Jonathan has toured throughout North America, Europe, and Japan.
強納生‧柏那德 ─ 打擊樂
畢業於渥太華大學音樂系,主修擊樂,但於UBC大學音樂系期間開始接觸亞洲音樂。柏那德自此不斷地研習及演奏不同民族的音樂,並獲加拿大聯邦及卑詩省藝術評議委員會的獎金,於2002年赴北京學習中國鑼鼓和新疆手鼓;於2005年,赴埃及學習多樣不同的打擊樂器;於2008年,赴印度學習印度古典音樂節奏;於2011年赴西班牙學習cajon。西樂方面,柏那德已首演了逾百首的室內及交響樂作品。他是溫哥華島交響樂團的打擊首席,溫哥華著名打擊樂團"The Fringe Group"成員,並參與許多交響樂團演出,其中包括加拿大國家芭蕾舞團、溫哥華交響樂團、CBC交響樂團以及國家青年交響樂團。他曾在歐洲、日本、北美洲等地巡演。
Yu-Chen Wang – zheng
Yu-Chen graduated from Taiwan's Tainan National University of the Arts, where she studied both the zheng and composition. Performing with precision and astonishing technique, Yu-Chen has premiered numerous contemporary works by herself and many groundbreaking composers in Asia and North America. Her compositions blend western classical and traditional Chinese music and place the zheng in ensembles of unconventional instrumentations. Yu-Chen was a soloist with the National Chinese Orchestra, the Kaohsiung City Chinese Orchestra, the Little Giant Chinese Chamber Orchestra, and the Tainan National University Chinese Orchestra. She has performed many solo recitals and has toured in Germany and the US. Yu-Chen performs improvised music with US ensemble Compost Q, and she was recently a guest artist with Kansas City's newEar contemporary chamber ensemble UMKC Music Nova. Yu-Chen has won numerous awards: the Gold Prize at the "Golden Lotus" International Youth Music Competition in Macau, a three-time First Prize winner at the Taiwan National Music Competition, First Prize at the Chinese Musical Instrument Association's Competition, and the winner of the Taiwan Young Concert Artist Competition.
王于真 ─ 古箏 
台灣青年古箏演奏家、作曲家,現旅居美國,為Compost Q 團員。畢業於國立台南藝術大學七年一貫制中國音樂學系,主修古箏。師事林東河和黃好吟老師,副修作曲,師事黃曉飛、莊效文、董昭民等老師。獲得獎項:2007年第二屆澳門金荷盃國際青少年音樂大賽青年專業組古箏專業「金獎」,台北市立國樂團「國樂亮晶晶」新秀。2005年台南藝術大學中國音樂學系《南藝之星》及《兩廳院傳統器樂新秀》。2001、2003、2005年全國音樂比賽少年組、高中職組、大專組箏獨奏第一名。2002、2005年中華民國國樂學會彈撥器樂大賽古箏青少年組、古箏成人組第一名。協奏音樂會:與高雄市立國樂團協奏陳明志-古箏與尺八協奏曲「刮風的日子」、與國立台南藝術大學七年一貫制中國音樂學系樂團協奏「西楚霸王」、與國家國樂團協奏「雲裳訴」、與小巨人絲竹樂團協奏「汨羅江幻想曲」。