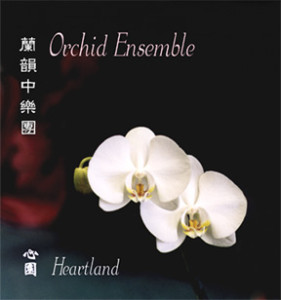 West Coast Music Awards nominee – Best Instrumental Music (non-classical) & Best World Music
Heartland OE2000 (Canada, 2000)
Released in 2000, the Orchid Ensemble"s debut CD Heartland features original compositions by Vancouver composers Mark Armanini and Jin Zhang, alongside fresh arrangements of traditional Chinese music of diverse styles. 
Press
Harvest Season – Ming Kao, Arr.: Lan Tung
This piece is a modern portrayal of farmers dancing and singing at a harvest celebration in rural China. In Lan Tung"s arrangement, an additional percussion section has been added. 
Meditation in the Boudoir – Traditional, Arr.: Ngon-pak Ng, See-wah Hon, Orchid Ensemble 
Originally part of a larger work for pipa, the four string lute, in its original form it was considered on of the thirteen greatest pieces for pipa. 
Lantern Riddles – Jin Zhang for the Orchid Ensemble (Canada Council commission)
Beautiful paper lanterns of every size and design are hung every evening during the Chinese Autumn Moon Festival. From these lanterns often dangle small strips of paper containing riddles, and great enjoyment is taken in trying to solve the riddles during the festival.