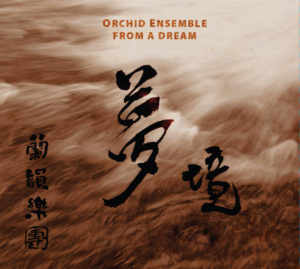 https://www.thewholenote.com/index.php/booksrecords2/potpourri/29619-from-a-dream-orchid-ensemble
From a Dream
Orchid Ensemble
Independent OE 2018 (orchidensemble.com)
Lan Tung (erhu, vocals), Yu-Chen Wang (zheng) and Jonathan Bernard (percussion) are the Vancouver-based trio Orchid Ensemble. Established in 1997, the trio incorporates Chinese musical instruments and traditions with global sounds, regularly commissioning scores from North American composers. One of its goals is to develop "an innovative musical genre based on the cultural exchange between Western and Asian musicians." True to its mandate, this album is a collection of works by Canadian composers, along with two arrangements of Chinese originals.
The title track From a Dream by American-Canadian composer Dorothy Chang was inspired by images of China's Huangshan (Yellow Mountain). Chang reflects the poetic qualities of this spectacular landscape, by turns evoking in her deftly wrought impressionistic score the stillness, strength, delicacy and resilience of this iconic site.
No Rush, by Vancouver composer and conductor Jin Zhang, also explores contrasts – though here sourced from within – segueing from tenderness and strength, forcefulness and tranquility. Each instrumentalist gets a solo turn. Veteran percussionist Bernard gets a workout on a wide spectrum of metal, wood and skin, struck and bowed instruments, erhu virtuosa Tung shines as the dramatic melodic voice, and zheng player Wang imbues her part with rhythmic incision and energy.
Fire (2007) also by Zhang, was inspired by stories of the 1960 fire that burned Nanaimo's Chinatown to the ground. This near-cinematic work, with a chorus of four voices, evokes human struggle, hardship and the opportunity for regeneration: an uplifting theme with which to close to this enjoyable album.
Written by Andrew Timar, Nov 2019