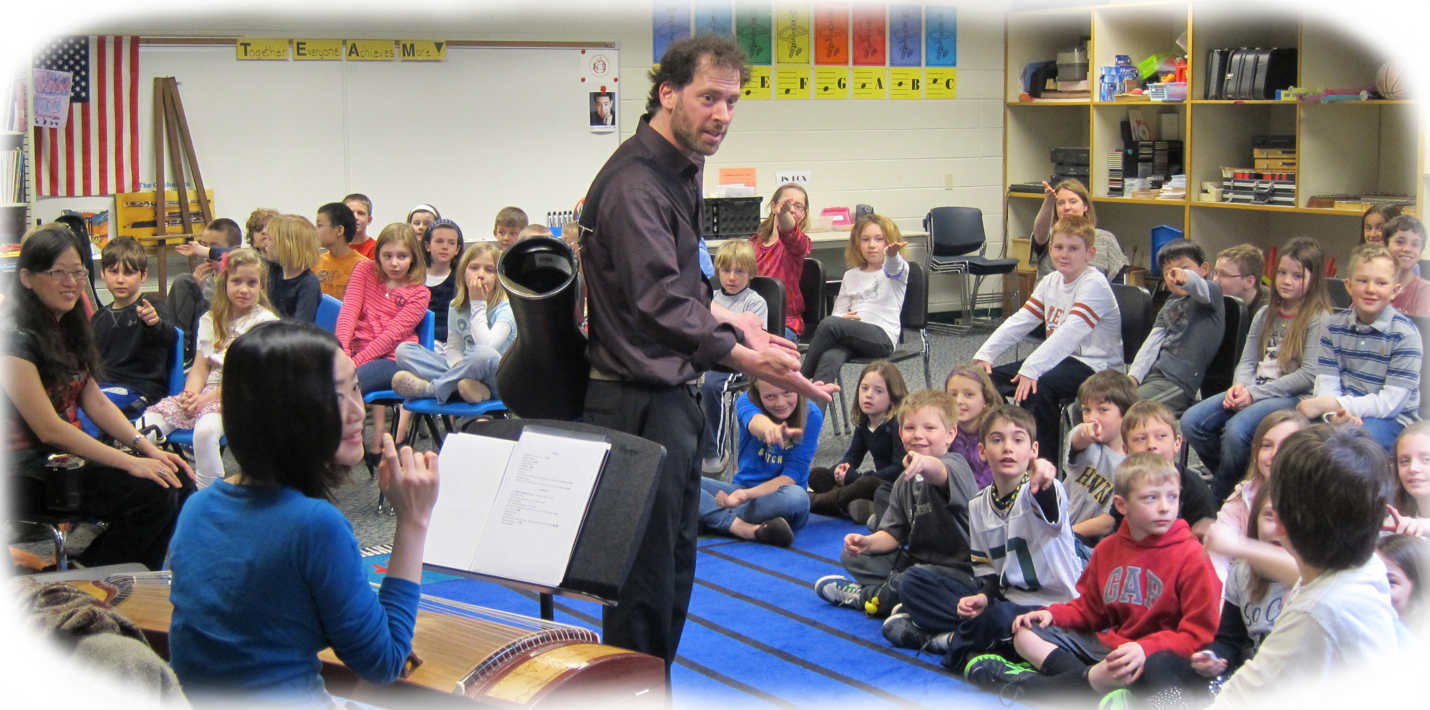 Overview of "Primary – Intermediate- Secondary School Presentations"
The Orchid Ensemble offers special programs for young audiences, featuring instruments, music and stories from China and around the world. The presentation acts as a vehicle for greater understanding of Asian culture and includes student participation. As the students witness the result of combining instruments and traditions from Asia and the West, they develop not only tolerance and understanding but also leave the concert excited about and open to the possibilities of cross-cultural collaboration.
The Orchid Ensemble is British Columbia's official spokesperson for the UNESCO Associated Schools Project Network (ASPnet) in Canada. For further information on UNESCO and ASPnet please go to http://www.unesco.ca/english/ASP/asp-spokespersons.htm
Following is an overview of topics included in the K-12 presentations:
Construction, history and geographic origins of the Orchid Ensemble's instruments
Specific musical style, culture and lifestyle of distinct minority peoples in China
Asian myths and creation stories
Knowledge and appreciation of tonal languages
Participation in rhythmic activities 
The challenges and rewards of cross cultural collaboration
Appreciation and awareness of our cultural mosaic
Special Silk Road presentation, ideal for grades 6-12, raises social, cultural, geographic topics:
How and why did societies evolve?
How does the geography of a region influence culture?
What is cultural identity? What are the various elements that define individuals and groups?
What is cultural exchange? How did it take place on the Silk Road? What was exchanged?
What is the impact of diverse cultural exchange, modernization, standardization, globalization…then and now?
*Detailed study materials are available and provided in advance of the presentation
---
The Orchid Ensemble performs across Canada and the US, with bookings at venues as diverse as the Kennedy Centre for the Arts, National Gallery and National Library of Canada, Harbourfront Centre, Shortgrass Library system in Alberta, the Seattle Symphony Society and the Vancouver International Jazz Festival. For further information on the Orchid Ensemble, including instrument descriptions and performer biographies please check our website at www.orchidensemble.com. Thank you for your consideration of this unique opportunity for your students.
"Our students were enthralled by your instruments, style, rhythms and melodies. Your explanations of the history of the music and its meaning were understandable, interesting and were presented without any patronizing or simplifying. The respect you showed our students was repaid in their interesting questions and rapt attention."  – Dan Rubin, Principal of False Bay School, Lasqueti Island, BC
"…interesting, informative, and well paced, their school show is a model for cross-cultural expression, and it captures the attention of a wide age range." – Valerie Dare, Coordinator Britannia World Music, Vancouver
"Your blend of music and story…captured the attention of the children at all of the performances. One could see the excitement in their eyes …you have made a difference in their lives." – Raymond Lusty, Director Shortgrass Library System, Alberta