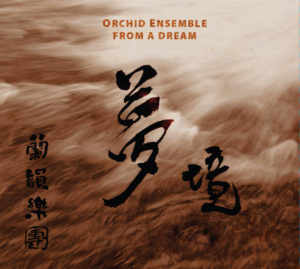 https://www.straight.com/music/1371176/orchid-ensemble-embraces-interculturalism-dream
Orchid Ensemble embraces interculturalism on From a Dream
Orchid Ensemble
From a Dream (Independent)
You'll want to hear this because it's beautiful—and also because it's music that deftly encapsulates the Vancouver experience.
Admittedly, "the Vancouver experience" will need some clarification. This is not the Vancouver experience of seeing the world from some penthouse condo. Nor is it scabrous rock 'n' roll from some DTES gutter.
If our city's physical environment has influenced the music, that's most likely audible on Jin Zhang's "No Rush", which has the uncanny sound of the seawall in fog, a kind of contemplative grey shot through with the magical and the unexpected. But what's really being celebrated here is possibility: the avenues that open in an immigrant city.
Founded in 1997 by Taiwan-born erhu virtuoso and singer Lan Tung and her Canadian partner, percussionist Jonathan Bernard, the Ensemble now includes another Taiwanese musician, Yu-Chen Wang, on zheng. This instrumentation naturally inclines the band towards Chinese music, which it plays beautifully. But the trio also honours its intercultural aspects in Dorothy Chang's spiky, cerebral, and appropriately otherworldly title track, and in the dramatic "Ghosts of the Living", with Wang's zheng effectively standing in for the Persian santur.
Exquisitely produced by Jay O'Keefe, From a Dream is an intellectually stimulating yet luxurious listening experience—and a dream vision of what Vancouver could be if art were as privileged as commerce.
by Alexander Varty on March 11th, 2020