POT POURRI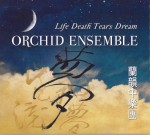 Life Death Tears Dream
Orchid Ensemble
Independent OE2012 (www.orchidensemble.com)The Juno nominated Vancouver world music trio Orchid Ensemble consists of leader, singer and erhu (Chinese violin) player Lan Tung, Yu-Chen Wang on the zheng (Chinese zither) and percussionist Jonathan Bernard. Life Death Tears Dream is the ensemble's third CD. In it they explore several common yet paradoxical categories: West and East, ancient and modern, composed and improvised, in the end product proposing a diverse yet cohesive musical fusion of Chinese, Spanish, Taiwanese and Jewish diasporas.

Original compositions by Canadian west coast composers Mark Armanini, Moshe Denburg, Barry Truax, Lan Tung and Yawen V. Wang proudly stand beside idiomatic arrangements of ancient Chinese originals, i.e. Three Variations of Plum Blossom 梅花三弄 by Huan Yi (c. 350 CE), arr. Lan Tung (2006).

Lan Tung's Dancing Moon 月舞 (2009) is an effective example of the Orchid Ensemble's cultural and stylistic accommodations and of the rich palate of timbres they employ to expand the work's sonic space. Couched in a quick, pulsing 5/4 groove the main melody is inspired by a southwestern Chinese folk song in the course of which improvisations are taken. The centrally-placed zheng solo is particularly masterful, culminating in a torrent of nine-beat cycle phases reminiscent of Indian classical music, while shifting tonalities and rhymes may have a Balkan inspiration. Lan Tung's vocals on lyrics by a Tang dynasty poet set the narrative stage evoking an energy-filled moonlit nightscape: a celestial stream flowing through an ancient forest of clouds swirling over green mountains. It's well worth repeated listening.