Warren Gerds/Critic at Large: Review: Orchid Ensemble expresses hybrid vigor
read the original post
By Warren Gerds | warren.gerds@wearegreenbay.com
Published 04/16 2015 06:47AM
Updated 04/16 2015 06:52AM
Orchid Ensemble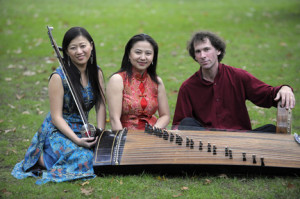 PHOTO: Members of the Orchid Ensemble are, from left, Lan Tung with erhu, Haiqiong Deng with zheng and percussionist Jonathan Bernard. Publicity photo
GREEN BAY, Wis. (WFRV) – Written language is a poor excuse for trying to describe the music of the Orchid Ensemble, a trio that played Wednesday night as part of the season offerings of the Weidner Centerfor the Performing Arts. But, fool that I am, here goes:
The setting was Fort Howard Hall, designed for intimate, au naturale (no microphone) performances – perfect for this concert.
"Orchid" is a good name for the trio. The plants are of endless diversity. Their colors are delicate or dense. They demand knowing care. They speak refinement. They have an "other" quality to them, something above and beyond the earnest dandelion (just kidding) or, particularly, the glorious rose. Thus, the music of the Orchid Ensemble.
***
Program
Part I
"Meeting in the Yurt" – Lan Tung, Mei Han, Jonathan Bernard
   A folk song/love song of Mongolia, including Lan Tung singing in a voice like a call.
"The Gallop" – arranged by Lambert Lum, Orchid Ensemble (1999)
   Layered depiction of warriors' horses.
"Xiao He Tang Shui" – arranged by Lan Tung (2010)
   Love song from a southwestern China province, with Lan Tung singing slowly in yearning manner with her right hand gesturing in a stylize manner.
"Tune of Mulberry" – Zhou Yanjia (1979)
   Exploration on the zheng, performed dramatically as if expressing an operatic scene of a woman's longing for her distant beloved.
Part II
"Maqam: Prelude and Dance" – Zhou Ji, Shao Guangchen and Li Mei, arranged by Mei Han
   Influenced by the Islamic population of northwest China, with a rumba-like beat that surfaces; ends at great speed
"Goldfish" – Mark Armanini (1994, arranged in 2015)
   The erhu and marimba piece conjures images of goldfish in a pond, leisurely exploring.
"The Winged Horses of Heaven" – Moshe Denburg (2001)
   Based on a Turkish rhythm, the multi-layered music features hoof-beat sounds played on temple blocks.
"Ya Ribon" – traditional, arranged by R. Raine-Reusch, Moshe Denburg and Orchid Ensemble
   A sacred song from Persian Jews who settled in Kaifeng in central China.
"Bengalia" – Prashant J. Michael, R. Raine-Reusch and Orchid Ensemble
   Influenced by sounds of India, an interplay of instruments with soulful start turning vivacious.
"Harvest Season" – Ming Kao, arranged by Lan Tung
   Of traditional Chinese origins, the piece scurries as farmers celebrate the season.
***
The music comes from instruments and/or voice and from places well beyond the confines of Green Bay. The music comes from endless human wanderings to and through and around China, which, the audience was told, includes 56 minority groups. (By the way, the phrase, "People's Republic of China," was not used anywhere during the evening; the people of which the musicians spoke were of humankind, not government). The music that the Orchid Ensemble visited was from multiple amalgams of interaction through the centuries. Travelers along the Silk Road trade route brought instruments and their favorite "tunes" along with them, and now the Orchid Ensemble re-visits that music with its own blend of instruments and styles and individuality of its players.
Kind of/sort of central is Lan Tung, who plays erhu and sings. The erhu has but two strings, yet it carries melodies that have a melancholy aura. Many times, to me, the instrument seems to cry. Lan Tung performed mostly without sheet music. It was as if the music simply arrived from her – very naturalistically and flowing.
Haiqiong Deng plays the zheng, which is sometimes described as being a kin to the zither (which doesn't help much). The instrument looks like a small harp lying down. It is plucked with one hand (Haiqiong Deng flashed her right hand fingers to show what looked like four talons) with the left hand modulating sounds on the other end of the strings. If idle hands are the devil's workshop, zheng players are saints. In general, the sound from the zheng is sprightly.
Jonathan Bernard plays marimba and percussion. All the pieces had life, a pace through his playing. Sometimes, he plays marimba with one hand and percusses with the other. He's a very busy fellow. All of the players perform with exacting nuances, but they are more pronounced from Jonathan Bernard because how a sound is produced can be seen/heard. (The seen/heard is why we still have live performances because they are a whole experience other than being just an aural one).
The Orchid Ensemble's program brims with intercultural music. It is filled with "Gee, I didn't know that" information and "Gee, I never heard anything quite like that" sounds. Very cool.
THE VENUE: The sound-friendly Fort Howard Hall is one of three performance spaces within the EdwardW. Weidner Center for the Performing Arts at the University of Wisconsin-Green Bay. With seating for 275 when a bank of risers is deployed, the space is used for recitals and small-group performances. Built with acoustical properties of high concern, the room includes five banks of angled wood in the ceiling and seven beveled wood panels each side, with curtains between and flat surfaces dark blue-gray. For the Orchid Ensemble performance, the projected backdrop was a crescent moon and a field of large stars. The hall's name relates to Fort Howard Paper Co., a historic firm in Green Bay that was founded by A.E. Cofrin, whose son Dr. David A. Cofrin, and other family members were instrumental in building the Weidner Center through multi-million-dollar donations.
Because I review a broad range of performances, professional and amateur, and because of the tremendous range of production budgets, I have decided to forego putting star ratings on performances. You may email me at warren.gerds@wearegreenbay.com. Watch for my on-air segments on WFRV between 6 and 8 a.m. Sundays.
Copyright Copyright 2015 Nexstar Broadcasting, Inc. All rights reserved. This material may not be published, broadcast, rewritten, or redistributed.